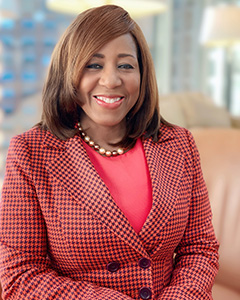 An operational ninja with serious GM credentials and service at the White House.
"The secret of change is to focus all of your energy, not on fighting the old, but on building the new."—Socrates
COO, Co-Founder of Heritage Consulting By B+R
30+ years of luxury hospitality leadership
The first female Chief Usher at The White House
Has U2, Tina Turner and Bob Marley in high rotation on her Spotify playlist
Favorite business book: All I Really Need to Know I Learned in Kindergarten
Angella Reid is an operational and managerial powerhouse who has channeled decades of luxury hospitality experience into leadership roles at some of the world's best hotels and at The White House Executive Residence.
A dynamic leader, Angella has a proven track record of turning around hotel operations by fostering a positive work environment with a focus on employee- and customer-driven solutions. The natural byproducts of her successful approach? Elevated service and product offerings, superior financial performance and extraordinary profit margins.
Angella is a Jamaican-born immigrant to the United States who began her hospitality journey at the front desk of the famed Half Moon Club in Montego Bay. With a Hotel & Tourism Management degree from the Carl Duisberg Gesellschaft School in Munich, Germany, under her belt, Angella carved out an impressive hospitality career, with executive positions and multiple General Manager roles for Marriott and Ritz-Carlton Hotel & Residences.
In 2011, Angella became the ninth person and first woman to be appointed as Director of the President's Executive Residence and "Chief Usher." Serving the Obama and Trump administrations, Angella was responsible for overseeing all operations and activities within the Executive Residence and on the Executive Residence grounds.
Her work has been recognized with Ritz-Carlton Corporate Leadership Awards and inclusion on Florida International Magazine's "Top 100 Movers and Shakers" list in 2007.
Angella is passionate about community service and has served on the Coconut Grove BIC, led the Marriott Diversity Council in the Northeast, and served on the Board of Directors USO Metro DC. She currently serves on the Board of Girls Inc. of Chicago.
In 2019, Angella partnered with longtime hospitality peer Olivia C. Brown to establish Heritage Consulting By B+R. The founders and their hand-picked team of consultants offer decades of specialized hospitality expertise and strategic support not only for hotels and resorts, but also for complementary businesses including gaming, healthcare, government and other customer-facing companies.
Angella is conversational in German and basic Spanish, and enjoys reading Patricia Cornwell's crime novels and thrillers by Ludlum and Grisham. She is a fan of Track & Field and the Bayern Munich soccer team.
Angella is based in Miami and loves discovering new restaurants and unearthing unique arts and crafts on her global travels.