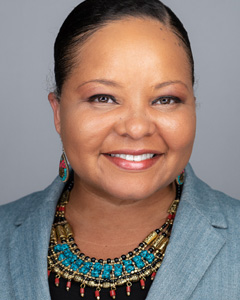 Xaulanda Simmonds-Emmanuel is a Life Coach Practitioner and has a Mastery Level Certification, which compliments her transformational, servant leadership style. She is currently the Senior Consultant for Urbander, specializing in Strategic Marketing, Business Development, and Diversity & Inclusion. In 2020, she founded The XauSky Group, LLC with her daughter, Xauskya, specializing in organizational development consulting, group facilitation, work passion and life coaching.
Xaulanda has over twenty years of experience in Business and Hospital Administration. She began her career in manufacturing as a Purchasing Agent with the Virgin Islands Alumina Corporation (VIALCO). Eventually, she led the entire purchasing and inventory control team as the Buy/Supply Administrator with St. Croix Alumina (ALCOA). In 2001, Xaulanda transitioned into the healthcare field and assumed the role of Director, Purchasing and Inventory Control at the Gov. Juan F. Luis Hospital & Medical Center. With the $24 million Virgin Islands Cardiac Center project launch, Xaulanda served as Project Manager for the business development and schematic design phases, and remained a core member of the team from groundbreaking to facility opening. Throughout her eleven years at the hospital, her demonstrated leadership, operations, and communication skills earned her numerous Executive Management positions such as Vice President (VP) of Materials Management, VP of Strategic Planning & Marketing, VP of Support Services and Regulatory Affairs, as well as Chief of Communications and Community Connectivity.
In 2013, she was recruited by her former CEO to work in Minnesota on his transition team at Northwestern Health Science University. She eventually returned to healthcare, but this time in home health with HealthStar Home Health, where she managed the Minneapolis operations. During her time in Minnesota, she discovered her passion for coaching and leveraging the strengths of each team member to create thriving workplace environments.
With a BA in Business Administration and MBA in Healthcare Administration, she is currently pursuing a Ph.D. in Industrial-Organizational Psychology. Her research is focused on employee work passion among middle managers that self-identify as people of color. Her dissertation is titled, "Predicting work passion: An analysis of organizational, job and relationship characteristics, diversity work climate, mindfulness & motivation."